spoko

Add spoko as a friend

spoko will be notified and will have to accept this friendship request, to view updates from spoko and their ratings you must follow them.

Remove spoko as a friend



About me
[Link removed - login to see]
Occupation: IT Coordinator
About my collections
This is not at all a comprehensive list yet. Don't know when I'll get around to that. Mostly, so far, I've just been playing around to see how I like the site.
Lists
Recent reviews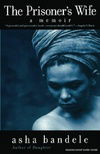 Posted : 12 years ago on 26 February 2006 11:48 (A review of
The Prisoner's Wife : A Memoir
)
I'm speechless. This was simply a stunning book. It is so much more than I expected it to be, and so much better. bandele's writing is forthright, direct, and insightful, and she is relentless in the telling of this story. What an amazing book.

0 comments,
Reply to this entry
Music
Books
DVDs
Comments